The time of colorful flowers, warm breeze and lush greenery. Now it's the time to explore the long ridges, look to the future climbing routes and smiling descent hunting trails …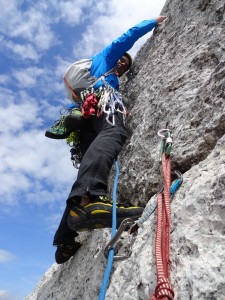 Slovenian in Triglav, II-III, 800m
On the trail of the cavers through wall. The first steps in the world of climbing?

German route, III-IV, 1000m
The other side, once left, now flirting with the Slovenian on one side and Bavaria on the other. And above all enjoying the beautiful passages through wall.
Bavarian route in Triglav
Nalepša ˝štirica˝ naše Stene.
Skalaška smer v Triglavu
Over the highest part of the central Triglav wall … You wanted to sail a Ship on the wall. It is here ;-).
Čop pillar
The Legend of the Wall…
Horn route on Jalovec
The Slovenian Matterhorn in style. Here you won't stay cold. Ridgey route
Hudičev steber v Prisanku
Zanimiva smer preko obzidja Prisanka. S posebnim zaključkom. Sestopimo po ferati.
Sekloč route in Debela peč
Very nice route of beautiful passages, which concluded on grass over the vast forests of the Pokljuka plateau.
DKV in Veliki Draški peak
The taste of good rock,real "five"(UIAA) with a view of Triglav.
North ridge Male Mojstrovke
Light feet … over the wall. Down after Hanzova route or the southern slopes.
Route of Mis Debelakove
A little longer and mountain variation of The North ridge.
Pillar of the poor in Velika Mojstrovka
For those who are definitely not. Route that has much to give.
Bučar-Kristan in Mali Oltar
Taste of Moutains of Martuljek in their best rock.
South ridge of Škrlatica 
On the southern ridge to the beauty of the Julian Alps. When …? In the autumn, when all gold.
Igličeva in Little Rinki
Beauty of Kamnik Alps. Worth sin.
East route in Rinka
Druga od dvojčic v Mali Rinki. Nad Okrešljem.
Direktna smer v Štajerski Rinki
Severozahodni raz Planjave
Malce drugače na lepotico Kamniških Alp. Zares lepo grebensko prečenje.
Smer Svetelove in Steber X v Planjavi
Kratke in sladke smeri nad Kamniškim sedlom. Namenjene spoznavanju z večraztežajnim plezanjem.
Humar-Škarja v Planjavi
Na sončni strani Kamniških, z vzponim na vrh Planjave in sestopom po lovski poti preko Repovega kotav Kamniško Bistrico.
Sobotna smer v Planjavi
Lepota Planjave. Za soboto…morda.
Herletova v Ojstrici
Zračno in lepo, na vrh Ojstrice. Na ta način ji ime vsekakor prilega.
Geršak-Grčar v Vežici
Plezalski dragulj nad dolino Kamniške Bele, s pogledom na greben Zeleniških špic.
Zupanova v Koglu
Lepa in topla plezarija v osrednjem delu Kogla.
Virensova in Južni raz Skute
Ena od najlepših tur zmernih težav v Kamniških Alpah.
Zajeda Skute
Po prehodih v južnih robeh Skute. Po kvaliteti dvojčica Raza Skute.Zmerne težavnosti.
Zajeda Brane in Šija
Smer za pokušino…lepa in kratka plezarija z izredno okolico.